You Are Here:
Home
»
Blog
(Page 3)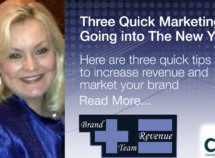 Here are three quick tips to increase revenue and market your brand: Tip 1 — In 2017 create a brand event (brand stamp). A brand stamp is an event that invites your clients and showcases what you do. An event showcasing your product with a component to help a charity can engage new target markets. Your content marketing and social media can create attention for the event. This is your opportunity to engage ...
Read more

›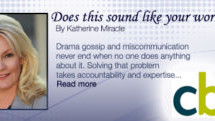 Everyone is sooooo busy!  You hear this all the time, and it is frustrating when a new project or an idea is given but all you hear is, "We are too busy." As time passes, you see that the same people who complain and tell you how busy they are are actually killing the brand and the team. So you ask yourself, "How do they keep their job?" Great question! If you have been in this situation, you will se ...
Read more

›
If you are asked to introduce yourself in front of others or in a one-on-one conversation, remember the three P's. For example, let's pretend you are at an event and someone asks, "So, tell us about yourself?" Purpose — What you do, your title or what jobs you are seeking Passion — What you love about that work Proof — A quick story that proves you are good at what you do (builds credibility) Example: "I am ...
Read more

›
Why do  team members cause you problems and kill your company brand? The answers are found in this simple story: In high school I attended a leadership retreat that changed my life. But when I returned from the retreat I was forced to use what I learned. I was asked to babysit for a family that could not keep a babysitter but they paid very well and I needed money for college so I figured I wo ...
Read more

›
In our society the endless pushes and self-promotion can kill brands. So we need to create a strategic personal brand. The truth is a brand is a trust and a promise. What you say, post, tweet, and take action on determines your message to the world. There are three ways to ensure you create a strategic personal brand. These steps will be your guide to attracting the customers/clients you want, the relations ...
Read more

›
5 ways your team is killing your brand & how to solve it! The same people who think they are protecting the brand are killing it! Let's learn from some examples: Your team refreshes the brand without stakeholder input: Learn from Coca Cola when customers were outraged by a brand/product change. Closer to home, a local university whose has changed leadership, in part because of a new brand campaign. In l ...
Read more

›
Did I really just write that! I am a marketer and sadly in our industry we are expected to market and make money off any product. Yes, my name is Miracle but my fellow marketers and I agree that to make Miracles Happen we need to step in when a corporate culture kills the brand of the company. As marketers we must take on the role of problem solver to fix the brand. You will see many CMO's engage wit ...
Read more

›
Rock your Marketing in 2016 ONE VOICE - ONE VISION - ONE TEAM   ONE VOICE: Optics help your company to see what our potential customers view about you. An on line search by a potential customer or influencer would include the word review. Although it is true that a potential customer who learned about your brand may never do a review search but what if they do?    What will they find? Please r ...
Read more

›
The truth and lies of your personal brand!   " It isn't what we say or think that defines us, but what we do."                               Jane Austen                              Sense and Sensibility     Well friends, Jane Austen had it right before the personal branding revolution was invented. The truth behind your brand is the actions you take. Our society focuses on the external and we need t ...
Read more

›